Dejounte Murray is a professional basketball player for the National Basketball Association's San Antonio Spurs (NBA).
He played one season of collegiate basketball with the Washington Huskies, where he was named to the Pac-12 second team as a freshman in 2015–16.
Murray was selected to his first NBA All-Star Game in 2022. He has the most career triple-doubles for the Spurs.
Here, we have assembled all you need to know about Dejounte Murray, including his personal and professional life, in one page.
So, if you want to learn more about the player, read the article all the way to the conclusion. But first, let's take a look at some quick facts about Dejounte.
Quick Facts
Full Name
Dejounte Dashaun Murray
Birth Date
September 19, 1996
Birth Place
Seattle, Washington
Nick Name
Baby Boy
Religion
Christianity
Nationality
American
Ethnicity
Black
High School
Rainier Beach (Seattle, Washington)
College
University of Washington
Playing Career
2016 – present
Zodiac
Virgo
Chinese Zodiac
Rat
Father's Name
John Murray
Mother's Name
Not known
Siblings
Two sisters
Age
25 years old
Height
6 feet 4 inches
Weight
82 kg
NBA Debut
2016
Shoots
Right
Tattoos
Yes
Food Habits
Non-veg
NBA Draft
2016, Pick: 29th overall, Round: 1,(Selected by the San Antonio Spurs)
Hair Color
Black
Eye Color
Black
Career Highlights and Awards

NBA All-Star
NBA All-Defensive Second Team, etc.

Build
Athletic / Muscular
Children
A daughter
Wife
Not married
Jersey Number
5
Position
Point guard
Profession
Basketball player
League
NBA
Net Worth
$80 Million
Salary
$15,428,880
Social Media
Merch 
Basketball Card
Last Update
August 2022
Dejounte Murray: Difficult Early Years
Dejounte Murray, an NBA player, was born in Seattle, Washington, on September 19, 1996. Murray was raised in Seattle's South End, a place where exploitation and brutality coexisted. He is not yet prepared to tell his complete childhood story in its entirety.
But even a quick glance shows how awful the background was. The player is still plagued by his early years. That's precisely what it was—if you picture a young youngster in the streets, hanging out with a gang, distributing drugs, and doing whatever it takes to make money. The player was precisely that.
When Dejounte was 11 years old, he was arrested for the first time. He wasn't worried about it though.
When he was eleven years old, juvenile had no meaning to him. Since he didn't know what was happening, he didn't feel scared or anxious.
His frequent exposure to violence was shown by the body-numbing emotion he experienced after discovering that a close friend or cousin had tragically been shot.
His father wasn't always there, and his mother was frequently in and out of jail. According to Murray, neither of his parents worked full-time as parents.
Even without a favorite cartoon, the player lacks a favorite. He was out on the streets for that long. Dejounte's way of living was more of an accident of fate.
The Cycle
The worst experiences in his family haven't just been had by Murray. His entire family had shared this lifestyle, beginning with my grandmother.
The player has heard tales about his great-grandmother participating in gang activity, going insane, and engaging in the worst behavior.
It had been a cycle passed down through the generations. To Murray, everything has been passed down. His family frequently engaged in drug sales and other illegal activity on the streets.
The player switched from one apartment to the next, as well as from a hotel room's sofa to a couch. His mother was kicked out of state housing after he was first arrested.
Dejounte Murray:  Days at High School
Murray attended Rainier Beach High School in Seattle, Washington.
NBA players including Jamal Crawford, Doug Christie, Terrence Williams, Nate Robinson, and Kevin Porter Jr. were created by the organization.
Actually, the player's life changed when he met NBA veteran Jamal Crawford in his sophomore year of high school.
Murray was taken under the wing of Crawford, a fellow Seattle native and graduate of Ranier Beach High School, who persuaded Murray that he had what it required to make it to the NBA.
Murray claimed that Crawford texted and called him constantly, urging him to stop loitering, join the gym, and improve his grades.
When Dejounte was in high school, he changed. He led the Vikings to three Class 3A state championships as their coach.
The Washington Interscholastic Basketball Coaches Association also named Murray Washington Mr. Basketball.
The guy was also named State Player of the Year by The Seattle Times.
Dejounte Murray: Education
The athlete was named to the Pac-12 All-Freshman Team and second team as a freshman at the University of Washington in 2015–16.
He started all 34 games and finished with averages of 16.1 points, 4.4 assists, 1.8 steals, 5.9 rebounds, and 33.5 minutes.
The player also gave notice that he would enter the NBA draft on March 23, 2016, which was before his final three years of NCAA eligibility.
Additionally, see Spencer Dinwiddie's NBA statistics, girlfriend, and wealth.
Career and  Professional Dejounte Murray
On June 23, 2016, the San Antonio Spurs selected Dejounte with the 29th overall pick in the 2016 NBA Draft.
For the 2016 NBA Summer League, Murray signed a rookie scale contract with the Spurs on July 14.
Murray did the same thing on October 29, 2016, in the third game of the Spurs' 2016–17 campaign.
Gaining Victory
Murray became the first player since Kawhi Leonard to reach 500 points and 300 rebounds in his first 100 games with the Spurs on February 3, 2018, in a 120-111 loss to the Utah Jazz.
Murray also pulled down eight rebounds on March 19, 2018, as the Warriors were defeated 89-75. As a result, he surpassed the previous record set by a point guard for the most rebounds in a single season.
He became the NBA's youngest All-Defense player when, at the conclusion of the season, he was named to the NBA All-Defensive Second Team.
Similar to this, in October 2019, Murray and the Spurs reached an agreement on a four-year, $64 million contract extension, raising the total contract value to $70 million with incentives.
All-Star NBA
Dejounte was first selected as an NBA All-Star on February 7, 2022, to fill in for injured Warriors' Draymond Green.
In his first nine minutes of the All-Star Game, the player scored 13 points on 6-8 shooting, added three assists, and grabbed two rebounds.
For another thunderous slam, he entered the game earlier in the second half and threw it to himself off the glass.
Dejounte Murray: Serious Injuries
On October 7, 2018, Dejounte suffered a ruptured right anterior cruciate ligament during a preseason game against the Rockets. He missed the entire 2018–19 season as a result.
LeBron James expressed his worry for Dejounte on Instagram after the incident. The participant wrote: "Man, when I saw the play, I was afraid that might be the case! F*#% you, dude! Lil' bro, when you come back, you'll be more athletic, stronger, and faster.
Illness
The player had another significant setback in 2022. The All-Star point guard tweeted a medical update on April 5, 2022.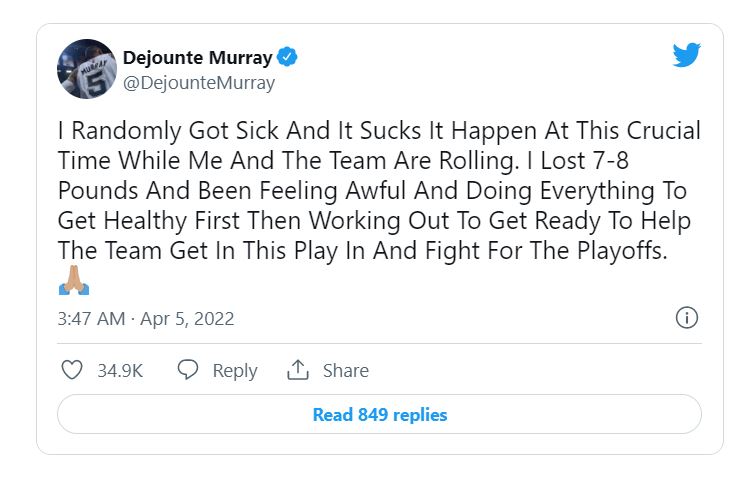 Dejounte is indeed suffering from an upper respiratory infection. The player has been skipping a lot of games as a result.
Dejounte has been replaced by 2020 NBA Draft prospect Tre Jones.
from the fans
The public's adoration and awe for an NBA star is not surprising. Similar to how Dejounte has always experienced tremendous affection and support from his followers.
Typically, supporters buy the jerseys of the athletes they support and like. Dejounte's fan, though, went a step farther and had it tattooed.
Dejounte Murray, according to 19-year-old Saige Flores, is his "idol." The Spurs supporter claims to frequently see the team when they visit Chicago, where he resides.
On his body, he also had a tattoo of the player's jersey. He sent Murray a photo of the tattoo on Instagram. The boy chose to display the tattoo to the player in person since Dejounte could not believe it.
After the Spurs v. Bulls game in January 2020, Saige waited for Dejounte by the tunnel in an effort to catch his idol's eye.
Dejounte was informed by the fan, who shouted louder than the other fans, that he was the one who had gotten the tattoo.
When Murray finally heard him, he returned to the area to sign several autographs and check the ink for himself. The encounter, in Saige's words, was the "greatest" experience of his life.
Saige claims that Murray's online persona, which frequently consists of motivational quotes and images, has had a positive impact on his life.
In addition, Murray's 2018 ACL injury comeback gave him the motivation to "be better and just keep going."
Friend Dejounte Murray
The basketball player and Jania Meshel are presently dating. A photo of the player and Jania in a private jet that was posted online proved their relationship. He said they would continue to rock indefinitely.
Similar to Jania, who also shared the same photo on Instagram, Dejounte was referred to be Jania's love and best friend.
She also described living their lives together after this.
Jania had dated the NBA Youngboy before beginning her romance with Dejounte. Similar to Dejounte, who dated Jilly Anais before falling in love with Jania.
Kids, Dejounte Murray
Riley, the NBA player's daughter, was born on July 31, 2017. Riley's mother is still a mystery, though, and no one knows who she is.
Murray shared a touching Instagram photo in honor of his daughter's first birthday.
In the caption, the athlete also alluded to his daughter's custody dispute. Additionally, he claimed that he no longer keeps his daughter a secret from the public.
Dejounte Murray's physical characteristics
Dejounte Murray, a basketball player, was born in 1996. He is thus 25 years old right now. According to the Chinese calendar, Murray was born in the Rat year. The current year is the first of the Chinese zodiac's twelve-month cycle.
Regarding Dejounte's appearance, the player is very attractive and has a muscular, well-groomed body. Murray works out frequently to maintain his active way of life.
The American player also has a height of 6 feet 4 inches and a weight of 82 kg. Murray's other physical characteristics are unfortunately unknown at this time.
The player has tattoos all over his body as well. Murray also has black eyes and black hair. Also of black ethnicity is he.
Murray also has the Virgo zodiac sign. Humans born under the Virgo sign are diligent, kind, and reasonable. They're also very smart. Dejounte Murray is hardly an exception.
Dejounte Murray: Awards
2022 NBA All-Star
2018 NBA All-Defensive Second Team
2016 Second-team All-Pac-12
2015 First-team Parade All-American
2015 Washington Mr. Basketball
How much is Dejounte Murray's Salary?
Dejounte Murray has earned enough money to live a comfortable life. He makes the majority of his money playing basketball in the NBA.
Dejounte Murray, an NBA player, is thought to be worth $80 million.
Dejounte Murray also increased his overall earnings after signing a "multi-million dollar" shoe sponsorship deal with New Balance in October 2019.
The athlete also reached an agreement with the San Antonio Spurs on a four-year, $64 million contract, which includes $64 million in guaranteed money and an average annual salary of $16 million.
Dejounte will have a basic salary of $15,428,880 in 2021–2022 along with a cap hit of the same amount. Additionally, he will get a dead cap value of $15,428,880.
The player's estimated lifetime earnings over the course of the six seasons total $35,929,149.
Social Media Presence
Frequently Asked Questions
What is Dejounte Murray's favorite basketball movie?
As revealed by the player, his favorite basketball movie is Love & Basketball. The 2000 American romantic sports drama movie was written and directed by Gina Prince-Bythewood.
What is Dejounte Murray's nickname?
The player, Dejounte, is also popularly known as the 'Baby Boy.' The nickname was given by his grandmother when he was young.